STEVENS POINT — Kimberly Dodd was 22 shots behind leader and three-time defending champion Tess Hackworthy when the Brookfield golfer finished Tuesday's first round of the Wisconsin State Women's Open. But the only golfer in the 59-player field Dodd really wanted to beat was the one waiting for her as she walked off the 18th green at Stevens Point Country Club.
Photos: Rainy Wednesday tests patience of field at 2019 WIsconsin State Women's Open
That's when Dodd broke the news to 13-year-old Treva Dodd. After Treva edged her 41-year-old mom by three strokes with a 45 on the front nine, Kimberly Dodd came storming back with a 44 on the back nine — and, yes, Mom sought updates at every reporting station on the course until her daughter finished her round — to shoot 92 and reach the halfway point of this 36-hole event with a two-stroke advantage in their battle in what is believed to be the first mother-daughter duo to compete in the same State Women's Open since 1997 when inaugural winner Erin Carney, then an Indiana University golfer from La Crosse, played in the same field as her mother Bobbe, a longtime LPGA teaching professional who placed sixth.
But that's not the only thing that makes Kimberly Dodd's participation in this year's event significant. Wednesday marked the first time that she has played a competitive event since Oct. 10, 1995, the day she she walked off the ninth green at University Ridge Golf Course in Madison after a final-round 84 left her in eighth place in defense of her 1994 WIAA state girls golf championship as young Kim Reid of Madison La Follette.
Soon after, Dodd left for the University of Wisconsin with aspirations of becoming a doctor. Instead, she became a lawyer and has spent most of her career at Foley & Lardner in Milwaukee, the wife of a doctor now raising two junior golfers of her own on the Wisconsin PGA junior circuits.
"Once I decided not to play in college, I didn't play in any tournaments," Kimberly Dodd said. "When you're not playing tournament golf and you're not out there everyday, hitting it hard, your game goes downhill fast. It became less fun to go out and play for pleasure. That was it."
From age 18 until her mid-30s, when her motherly instincts told her it was time for Treva to start playing the game that brought her so much success as a girl, Kimberly Dodd didn't touch a club. When Treva took up the game by age 7 and younger daughter Bela soon joined them, Kimberly found a new enjoyment — not to mention a new purpose — in her return to golf.
"I wasn't playing for my game at all," she said. "It was just to be out there, moving them along on the course. Of course, my game was not any good at that point. But it's gotten a lot better in the last few years. I thought it would be fun to start playing competitively again."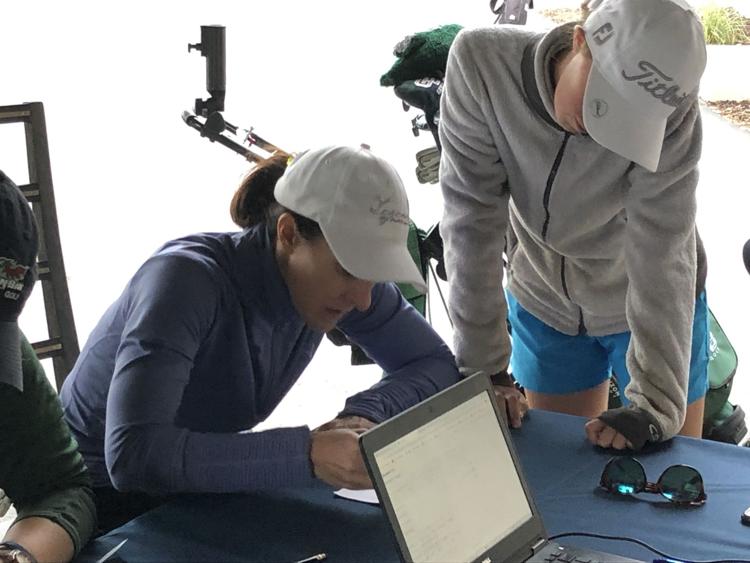 The idea to play in the State Women's Open was hatched last winter as mother was starting to formulate a schedule for her daughters.
"She said 'Do you want to play?'" Treva said. "I was like 'Sure!'"
Asked if she knew was the State Women's Open was, Treva replied: "Nope. She said that it was a competitive tournament for a lot of the older girls. She played a lot of competitive golf when she was little. And that's basically how I got into it."
Treva has been play been playing WPGA junior events since she was 9. Her sister, who just finished the fifth grade, has been playing almost as long.
Last summer, Treva Dodd played 19 events between the WPGA Futures Tour, Milwaukee County Par-3 Tour and WPGA Junior Tour. She has won eight career events on the Futures Tour, seven on the Par-3 Tour and, in 2018, won her first event on the Junior Tour when she shot 81 at Whispering Springs GC in Fond du Lac and beat 14 other girls for the overall title.
This week, Treva shot 98-86 in tough conditions on two courses at Lake Arrowhead GC near Nekoosa and finished 17th at the prestigious Lake Arrowhead Invitational while her mom was working remotely in the clubhouse. Meanwhile, Bela scored her eighth career Milwaukee County Par-3 victory Tuesday, shooting 29 at Noyes Park GC in Milwaukee to win by two shots.
"The first time I took Treva out to play, I knew she was a natural," Kimberly Dodd said. "She had a really good, natural swing. She got into it right away and has been really good. Bela was kind of the same way."
However, if there was one thing Kimberly Dodd learned from her junior golf experience, it was the importance of taking the successes and the failures in stride.
"It's a lot easier when you're an adult and look back and have some perspective," Kimberly Dodd said. "One is that — and I do think I had some perspective on this when I was a junior — even though, at one point, I wanted to play in college, I was never going to be good enough to play in the pros. You have to have that perspective; it's a game and at some point it's going to end."
For the longest time, golf did end. But it returned Wednesday in between the raindrops at Stevens Point CC with mom seeing her daughter off the first tee in the 1:33 pairing before following her out two groups later, both playing with two college golfers.
Afterward, Treva Dodd passed the time waiting for Mom watching with her grandparents as other golfers finished. She also compared notes on the day with her friend and fellow 13-year-old competitor Jessica Guiser of Hartland, who shot 79 and is tied for 11th.
Hackworthy (70), who will be a fifth-year senior at the University of Wisconsin this fall, will battle Symetra Tour golfer Jenna Peters of Kohler (71) and Franklin High School senior-to-be Mallory Swartz (73) in the 10:30 a.m. pairing Thursday, trying to join former Badgers golfer Malinda Johnson and Appleton teaching professional Carolyn Barnett-Howe (74), who is tied for fourth with South Dakota State golfer Mia Seeman of Milton, as the event's only four-time champions and the first to win four years in a row.
After describing her three-birdie, one-bogey round afterward, however, Hackworthy was told of the neat mother-daughter story playing out behind her and implored a reporter to "write about them." Hackworthy shares a special relationship with her mom, Aimee, a breast cancer survivor who was in her daughter's gallery Wednesday, and knows how much fun it will be Thursday for Kimberly Dodd to tee off one group behind her daughter at 7:57  — and then spend the next five hours trying to stay ahead of her.
---
Pos

Player

Thru

R1

R2

 

1
Tess Hackworthy

  

Madison, WI
-2
10:30a
70
 
70
 
2
Jenna Peters (p)

  

Kohler, WI
-1
10:30a
71
 
71
 
3
Mallory Swartz

  

Franklin, WI
+1
10:30a
73
 
73
 
T4
Carolyn Barnett-Howe (p)

  

Appleton, WI
+2
10:21a
74
 
74
 
T4
Mia Seeman

  

Milton, WI
+2
10:21a
74
 
74
 
6
Alexis Thomas

  

Middleton, WI
+3
10:21a
75
 
75
 
7
Gabrielle Tremblay

  

Hayward, WI
+4
10:12a
76
 
76
 
8
Jo Baranczyk

  

Green Bay, WI
+5
10:12a
77
 
77
 
T9
Carly Werwie (p)

  

Kenosha, WI
+6
10:12a
78
 
78
 
T9
Alyssa Gromala

  

Mokena, IL
+6
10:03a
78
 
78
 
T11
Taylor McCorkle

  

Oregon, WI
+7
10:03a
79
 
79
 
T11
Jessica Guiser

  

Hartland, WI
+7
10:03a
79
 
79
 
T13
Abby Cavaiani

  

Wales, WI
+8
9:54a
80
 
80
 
T13
Ashli Stolen

  

Stoughton, WI
+8
9:54a
80
 
80
 
T13
Allison Schultz

  

Madison, WI
+8
9:54a
80
 
80
 
16
Katie Warpinski

  

Green Bay, WI
+9
9:45a
81
 
81
 
T17
Aimee Gerschke

  

South Milwaukee, WI
+10
9:45a
82
 
82
 
T17
Isabelle Maleki

  

Mequon, WI
+10
9:45a
82
 
82
 
T17
Sydney Brandt

  

Brookfield, WI
+10
9:36a
82
 
82
 
T20
Bobbi Stricker

  

Madison, WI
+11
9:36a
83
 
83
 
T20
Erin Ericson

  

Onalaska, WI
+11
9:36a
83
 
83
 
T20
Faith Krause

  

Franklin, WI
+11
9:27a
83
 
83
 
T20
Caylie Kotlowski

  

Stoughton, WI
+11
9:27a
83
 
83
 
T20
Rachel Montaba (p)

  

Plymouth, WI
+11
9:27a
83
 
83
 
T25
Brittany McNett-Emmerich (p)

  

Fitchburg, WI
+12
9:18a
84
 
84
 
T25
Elise Hoven

  

Grafton, WI
+12
9:18a
84
 
84
 
T27
Payton Hodson

  

Middleton, WI
+13
9:18a
85
 
85
 
T27
Courtney Matschke

  

Franklin, WI
+13
9:09a
85
 
85
 
T27
Payton Dube

  

Hancock, MI
+13
9:09a
85
 
85
 
T27
Alix Larson

  

Slinger, WI
+13
9:09a
85
 
85
 
T31
Glenna Sanderson

  

Middleton, WI
+14
8:51a
86
 
86
 
T31
Lorenza Martinez

  

Menomonee Falls, WI
+14
8:51a
86
 
86
 
T31
Maggie Leef

  

Pewaukee, WI
+14
8:51a
86
 
86
 
T31
Markie Ash

  

Waupaca, WI
+14
8:42a
86
 
86
 
T31
Bekah Donner

  

Neenah, WI
+14
8:42a
86
 
86
 
T31
Courtney Shorter

  

Fitchburg, WI
+14
8:42a
86
 
86
 
37
Sydney Steinmetz

  

Oshkosh, WI
+15
8:33a
87
 
87
 
38
Katherine Meier

  

Middleton, WI
+16
8:33a
88
 
88
 
T39
Lauren Peterson

  

Hartland, WI
+17
8:33a
89
 
89
 
T39
Lillian Knetter

  

Madison, WI
+17
8:24a
89
 
89
 
T39
Myranda Kotlowski

  

Stoughton, WI
+17
8:24a
89
 
89
 
T39
Kalynn Dolby (p)

  

Berlin, WI
+17
8:24a
89
 
89
 
T43
Mari Suokko

  

Sturtevant, WI
+18
8:15a
90
 
90
 
T43
Sydney Brown

  

Eau Claire, WI
+18
8:15a
90
 
90
 
T43
Sydney Hubbard

  

Onalaska, WI
+18
8:15a
90
 
90
 
T46
Speedy Kent

  

Mequon, WI
+19
8:06a
91
 
91
 
T46
Sarah Balding

  

Brookfield, WI
+19
8:06a
91
 
91
 
T46
Jessica Rudnicki

  

Sun Prairie, WI
+19
8:06a
91
 
91
 
T49
Grace Welch

  

Madison, WI
+20
7:57a
92
 
92
 
T49
Kimberly Dodd

  

Brookfield, WI
+20
7:57a
92
 
92
 
T51
Mo Sheehan

  

Grayslake, IL
+21
7:57a
93
 
93
 
T51
Carmen Cruz

  

Oregon, WI
+21
7:48a
93
 
93
 
T53
Treva Dodd

  

Brookfield, WI
+22
7:48a
94
 
94
 
T53
Alicia Ripp (p)

  

Sun Prairie, WI
+22
7:48a
94
 
94
 
T55
Sophia Dooman

  

Janesville, WI
+24
7:39a
96
 
96
 
T55
Katie Gastrau

  

Wauwatosa, WI
+24
7:39a
96
 
96
 
57
Kailey Godfrey

  

Springstead, WI
+25
7:39a
97
 
97
 
58
Erica Feuerhelm

  

Ellsworth, WI
+26
7:30a
98
 
98
 
59
Eliana Tetzlaff

  

Kaukauna, WI
+27
7:30a
99
 
99