The list of Wisconsin PGA Section Teacher of the Year award winners represents a who's who of golf instructors, including legends Manuel de la Torre and Mike Bencriscutto, the Tiziani brothers (Dennis and Larry), Rich Tock and, more recently, highly sought-after teachers such as David Roesch, Jeff Kaiser and Travis Becker.
Missing from that list was a female.
Until now.
Molly Braid, 34, who teaches at Westmoor Country Club in Brookfield, has been named 2022 WPGA Teacher of the Year.
"It's something that you don't expect, but I've always thought it would be a great achievement and a great honor," Braid said. "Just to be nominated, I was so excited. Certainly, I'm feeling like it's overdue (for a woman to win), but I'm hoping that now other females who are thinking about being teaching pros might see that it's an industry that you can figure out a way to make it work for you."
The Section's highest honor, Golf Professional of the Year, went to WPGA vice president Mark Voeller, who was recognized for his service to the organization, his outstanding playing career and his teaching credentials.
A total of 11 golf professionals were honored with special awards and will receive them at the annual WPGA Spring Meeting, scheduled for March 7 at The Wilderness Resort in Wisconsin Dells.
Braid, a New Hampshire native who earned her teaching chops at the Dana Rader Golf School in Charlotte, N.C., moved to Wisconsin in 2017 and started teaching at Westmoor the next year. She might not be able match some others in the Section for sheer volume of lessons, but she is known for her innovative programming and has quickly attracted a devoted following.
"When I came in, it was like I was coming in to teach the women private instruction," she said. "It was kind of a slow growth. But then as the women got to know me, and some of the men, it all snowballed. When you're someone new as an instructor, it takes time to build trust within the community, and I was starting from scratch. I didn't know a single person in the golf industry (in Wisconsin) when we moved here. It was definitely a slow process but it feels like now we're starting to make some big jumps."
Braid has been recognized by Golf Digest as a "Top Instructor Under 40" since 2018 and as a Golf Digest "Best in State" instructor in Wisconsin since 2019. She is a member of the PGA of America and the LPGA and was a two-time Empire 8 Conference Women's Coach of the Year at Ithaca College. In 2016, she was named LPGA Northeast Coach of the Year.
At Westmoor, she has developed popular programs for juniors and women; among her more heralded students are Wisconsin Golf Hall of Fame members Maggie Leef and Katie Falk. Braid also is the only certified AimPoint instructor in Wisconsin and teaches the green-reading system to her students.
She has managed to do all of this while striking a work-life balance that works for her. She is due to give birth next week to her second child.
"As a young teaching pro, I knew that I wanted to have a family and I wanted more balance than the traditional golf industry provided," Braid said. "So, I worked very hard to protect some boundaries and tried to give myself some balance when we moved to Wisconsin, knowing that it can be a pretty intense season in the north.
"I've been on the other side of it. I used to teach 2,300, 2,400 lessons a year. I would teach sun-up to sundown. At the golf school I was at, we would set up in the dark and finish in the dark. I just knew that when I was ready to have kids, I didn't want to do that anymore. I get people who do it, because it's addicting. I understand how people teach a lot of hours, especially when we have these half-seasons outside. But I also knew that I could do a different business model.
"I've done a lot of research on learning. We did a ton of training in Charlotte for teaching in groups because that was a big part of our business. So, when I went out on my own, I said, 'I'm going to make sure I take advantage of the time that I have on the tee.' Create programs that really work for people. Respect their time but also respect my own. I've kind of run with that and Westmoor has been an amazing fit. The members have bought into my programs."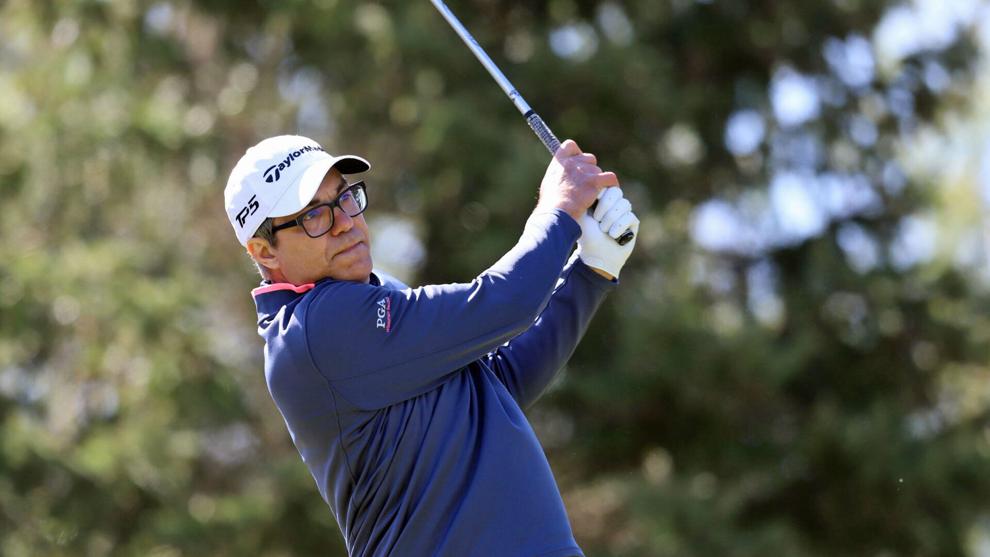 Voeller hails from a golfing family. His father, Don, was the longtime men's golf coach at UW-Whitewater and his mother, Christine, was the UW-W women's coach and chaired the NCAA Golf Committee.
Though Mark was an accomplished player at a young age, he wasn't necessarily set on following in his parents' golfing footsteps.
"I was toying with the idea of being a college professor, like my dad," he said. "I was thinking about going to law school and becoming an attorney. The summer right after I graduated, I wasn't sure what I was going to do. (Jason) Samuelian decided to go down and play a couple mini-tour events in Texas, so I tagged along with him. He had a lot more success than I did, and that's why I went and got a job."
In 1996, Voeller interviewed with Larry Tiziani at Cherokee Country Club and was hired as an assistant. After moving to the Milwaukee area, he landed a job as Eddie Terasa's assistant at North Hills Country Club.
"Those two, from an employment standpoint, I don't know if there's two better guys to learn from," he said.
For the last 16 years, Voeller has been the director of instruction at Golf Galaxy. He was elected to the WPGA Board in 2016, served a term as secretary and now is vice president.
"I was a political science major in college and I've always been fascinated with politics," he said. "I always was curious if I wanted to be part of the process as opposed to being just an observer. … And then certainly, with my parents being involved in stuff like that and working with people like the Tizianis and Eddie Terasa and guys like that, you do feel a responsibility to give back when you can."
Voeller also has an outstanding playing resume. He won the WPGA Assistant Stroke Play title in 2000 and was named Assistant Professional of the Year. He also was the 2009 WPGA Match Play champion and was a runner-up three times in the WPGA Championship.
"I still think it has a lot to do with being a PGA professional, is being able to play the game," he said. "It's the reason I got in the golf business, was to be able to do those type of things. And working for those two guys, Larry and Eddie, in my early career, that was important to them. They certainly played at a very high level. They were able to do that and still be a great pro at the course, too."
Though Voeller knew he was a finalist for WPGA Golf Professional of the Year, he was surprised when he got the call from selection committee chair Jeff Ellingson.
"I've known a lot of the people whose names are on that award," he said. "I certainly was surprised and humbled and I'm still not 100 percent sure my name belongs on that award with those other names. It's unbelievable, to be quite honest with you.
"Winning this award is my biggest accomplishment in golf. There's nothing that's anywhere close to this, for sure. I've had a couple little playing things, but nothing really close."
The other WPGA special award winners:
Assistant Golf Professional of the Year: Jake Van Fleet, Chenequa Country Club.
PGA Professional Development Award: Danny Rainbow, SentryWorld.
Youth Player Development Award: Jeremy Cabalka, Pleasant View Golf Course.
Player Development Award: Travis Becker, The Beloit Club and Ironworks Golf Academy.
Bill Strausbaugh Award: Vince Pulizzano, Westmoor Country Club.
Patriot Award: Jack Gaudion, The Legend Clubs.
Merchandiser of the Year (Private): Dave Kemnitz, Minocqua Country Club.
Merchandiser of the Year (Public): Tom Dolby, Pine Grove Country Club.
Merchandiser of the Year (Resort): Jim Lombardo, Erin Hills.