Say what you will about Mikayla Hauck always being the bridesmaid but never the bride, but two very big events in her life during 2018 say otherwise.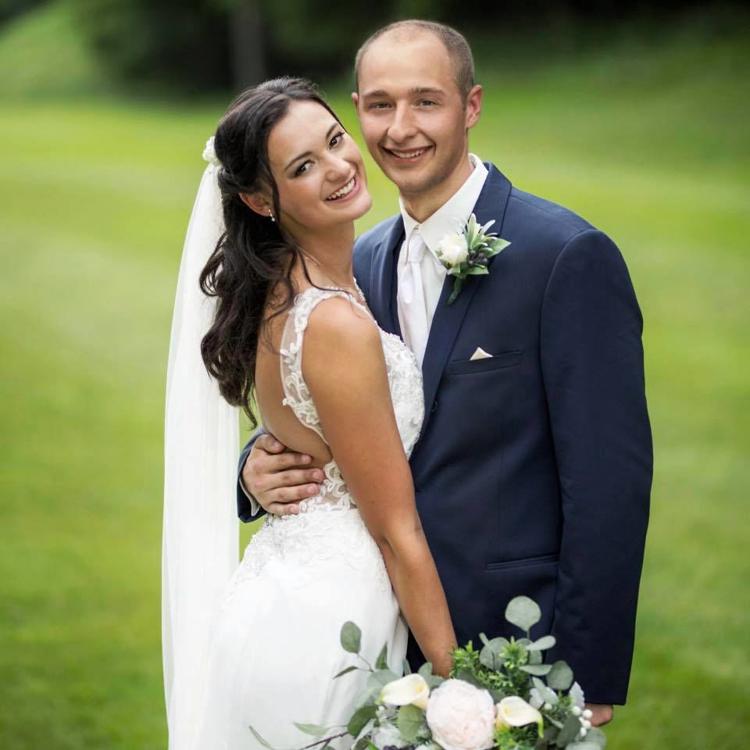 First, there was that golf-course wedding June 30 to Benjamin Groonwald at Wild Rock Golf Course in Wisconsin Dells. (Shhhh. Don't tell her, but we swiped this photo just to prove the whole never the bride thing.)
And then there was the golf-course achievement that made the three runner-up finishes she posted in three of the Wisconsin Women's Golf majors seem worthwhile. They earned the Eastern Kentucky University golfer the 2018 Wisconsin Women's State Golf Association Player-of-the-Year honors.
Her 625 points topped Santa Clara golfer Sarah Busey of Racine, who tallied 550 points in just two WWSGA points events. Busey won the WWSGA State Women's Match Play and was third at the Wisconsin State Women's Amateur.
Former University of Wisconsin golfer Rebecca Klongland of Stoughton, who won her fifth straight Wisconsin State Women's Am title, was third in the Player-of-the-Year standings with 490 points. Brookfield's Maggie Leef (412) — the WWSGA Senior Player of the Year — and current Badgers golfer Tess Hackworthy of Madison (300), who won her third straight Wisconsin Women's State Open title in her only WWSGA points event, rounded out the top five.
Hauck is continuing to use her maiden name in competition — "I am still playing by the name Mikayla Hauck, for golf purposes; I am Mikayla Groonwald for all the other purposes," she said at the Women's State Am —it was synonymous with consistent from the start of her summer to the end.
One shot off the lead at the Wisconsin State Women's Open after beginning her final round at Janesville Country Club with a birdie, three double-bogeys over her next seven holes killed her chances of catching Hackworthy. But she played her final six holes in 1-under to overtake Klongland and Symetra Tour golfer Jenna Peters of Kohler and finish second, four shots off the pace.
After qualifying third at the WWSGA State Match Play, Hauck chose to default to Leef in the second round after weather delays disrupted the tournament's schedule one week before her wedding. With a wedding ring under her golf glove at the Wisconsin Women's State Am, Hauck led the way after a first-round 73, but shot 77 in the second round and watched Klongland overtake her en route to a nine-stroke victory over the newlywed at The Beloit Club where, coincidentally, Hauck's husband worked as an assistant professional.
Hauck closed out her summer with another runner-up showing to UW golfer Bobbi Stricker at the Badger Mutual Insurance Women's Amateur at Brown Deer Park Golf Course in Milwaukee. Down three shots despite an opening-round 69, Hauck took a one-shot lead on Stricker at the turn after a 1-under 35 on the front nine only to have Stricker eagle No. 10 to catch her and then take the lead when Hauck double-bogeyed No. 12, holding on to win by two.
This fall, Hauck averaged 77.0 for Eastern Kentucky in 15 competitive rounds. She alternated between the Nos. 5 and 6 golfer for the Colonels.