MADISON – Taitum Beck of Waterford didn't know where she stood, and didn't want to know, coming down the stretch Tuesday in the final round of the Wisconsin Women's State Amateur.
Experience and intuition, though, told her that the 8-foot birdie putt she faced on the 16th hole at Blackhawk Country Club was important.
"I knew I needed it, for sure," she said.
When Beck buried the putt, she celebrated with a demonstrative fist pump. Unbeknownst to the senior-to-be at Weber State, she had just broken a three-way tie at the top of the leader board, and she held on to win the biggest title of her career.
Photos: 2020 Wisconsin State Women's Amateur Final Round
"Yes, by far," she said. "It's been a long time coming. It's surreal."
Beck shot a 1-over 73 and finished the 36-hole tournament at 3-over 147, one stroke ahead of Mallory Swartz of Franklin, who will be a freshman at Bowling Green, and two ahead of Taylor McCorkle of Oregon, a senior-to-be at North Dakota State.
It had been a long time since Beck won anything of note. In 38 career Wisconsin PGA Junior points events between 2011 and 2017, she never finished higher than second. As a junior at Weber State, her best finish was a tie for 14th at the Rose City Collegiate.
Asked to name her second-biggest accomplishment in golf, Beck thought for a few seconds and said, "Man … when I was a senior in high school, I won quite a few tournaments that year. Since then, college is a different ballgame. When you get in the bigger pond … it's just been a grind."
Maggie Leef of Pewaukee, a member of the Wisconsin Golf Hall of Fame, has been paired with Beck a few times in tournaments and played with her again Tuesday in the penultimate threesome. Leef noted how much Beck has improved in recent years.
"Her game has come along nicely," Leef said. "She was solid today. She made some great up-and-downs. She made some clutch putts. She was steady and composed and pleasant to play with. It's fun to watch how much she has improved, particularly the last two years."
Swartz shot an even-par 72 and finished at 148 and McCorkle, playing on her home course, shot a 75 and finished at 149. Leef was another shot back at 150 after a 76 and first-round leader Rachel Kauflin of Wauwatosa shot a 79 to finish in a fifth-place tie with Ellie Frisch of Middleton.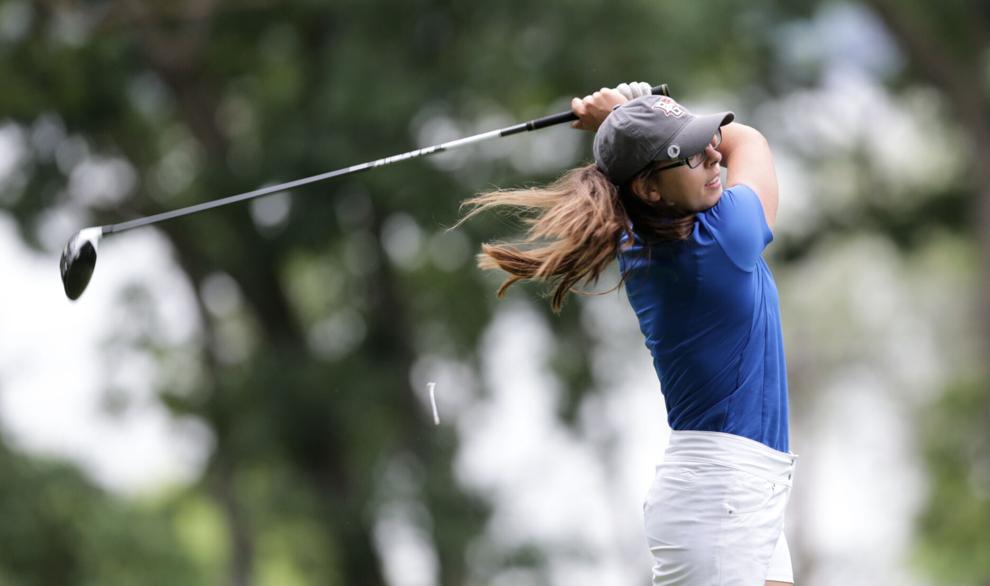 The finish was not without considerable drama as Swartz, McCorkle and Leef all had chances to win coming down the stretch. In fact, it appeared at one point late in the round that a multi-player playoff was a distinct possibility, especially after Beck followed her birdie on No. 16 with a bogey on the par-4 17th.
Swartz would have forced extra holes with Beck if not for a three-putt bogey on the par-3 finishing hole.
"My tee shot was fine," she said. "But I was about 30 feet above the hole and the putt was very fast. I just didn't judge the speed, and I left myself about nine feet coming back."
McCorkle, who shared the lead for much of the round, effectively ended her chances with a double-bogey on No. 17. She would have needed to ace the 18th hole to force a playoff.
Leef was one stroke off the lead with three holes to play but made a costly double-bogey on the 16th, missing the green right, leaving a pitch short of the putting surface and then leaving her ensuing chip some 10 feet short of the hole.
"I was between clubs and I stood up on the tee shot," she said. "I blocked it right into the flower bed. Then I gave too much credit to the lake effect, everything running to (Lake Mendota), and compounded my mistake."
Frisch, who will be a junior at Middleton High School, came out firing with birdies on Nos. 1, 2, 5 and 6 around a bogey on No. 3. But she cooled off on the back nine, playing the final seven holes in 5-over to fall out of contention. She shot a 74.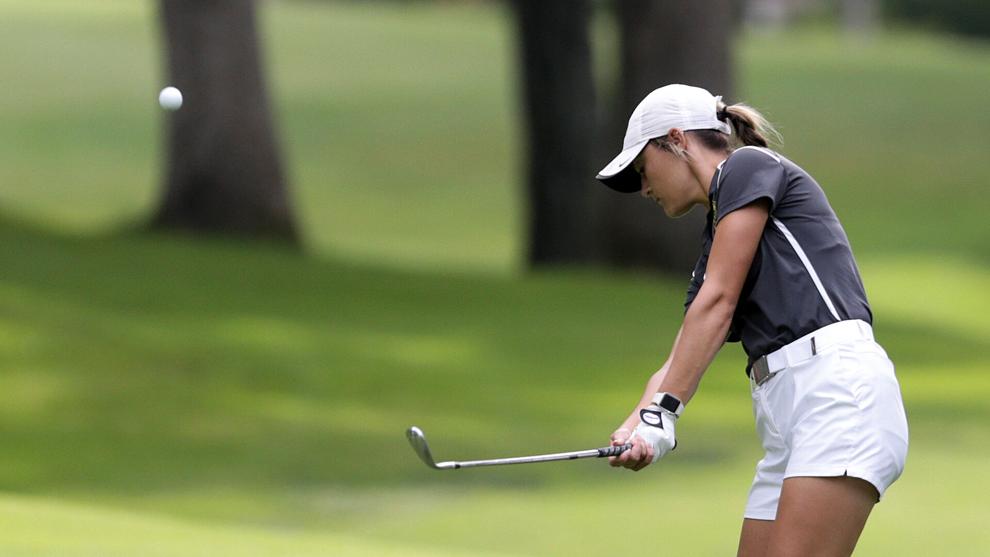 Kauflin, a Central Michigan recruit and the two-time reigning WPGA Junior Player of the Year, opened with a triple-bogey 7 on the par-4 first hole after blading a bunker shot over the green. Even though she chipped in for birdie on the next hole, she fought her swing on the front nine and finished with a 79.
"I only had to hit one bunker shot yesterday and I hit that one well," said Kauflin, who opened with a 72 and started the day with a one-shot lead. "There just wasn't a lot of sand in the bunker and I just didn't fully commit to the shot and the next thing you know, I make triple. What are you going to do?
"This is the biggest tournament I've had the lead in my career so far. It was definitely a learning experience. I obviously didn't have my best golf today. I just kind of found myself a little bit out of position. I didn't hit a lot of greens. But I finished strong. I played my last three holes 1-under, so I'm proud of battling and staying in the fight."
Beck hit driver all the way around Blackhawk, a picturesque but hilly course known for its tree-lined holes, sloping fairways and smallish greens. She grew up playing tree-lined Rivermoor Country Club in Waterford but has gotten used to an entirely different kind of golf in the mountains of Utah. Blackhawk is basically 5,754 yards of claustrophobia.
"It' a great golf course," she said. "I grew up on a very tight golf course, so I'm kind of used to that, but coming back from Utah it's been an adjustment, for sure. I hit a good amount of fairways. I hit driver pretty much all day."
Beck played a solid front nine, offsetting a bogey on No. 1 with a birdie on No. 4 to make the turn in 36. She double-bogeyed the 12th, the first of back-to-back par-5s, but bounced back immediately with a birdie on the 13th. She then made the clutch birdie on No. 16 before her final bogey.
"I was scrambling really well around the golf course," she said. "I got up and down quite a few times and made some putts I needed to make. I tried to play smart golf. I didn't know where I stood. I want to play offensive golf and put my foot on the gas pedal and keep it going. One shot at a time."
Beck said she couldn't wait to talk to her mentor, 86-year-old Joyce Malison, who won six times on the LPGA tour including the 1960 Western Open and has been a fixture at Rivermoor for 70 years.
"Joyce is amazing," Beck said. "She's so supportive. I hope to see her, hopefully tomorrow. She just saw (something) in me and said, 'Go work hard and keep after it.' She's so, so supportive."
After spending the last few years trying to find the winner's circle, Beck did it in Wisconsin's most prestigious amateur tournament.
"This is surreal," she said. "It means everything to me. It's huge to know you can win playing with the best. It's amazing."
Championship flight
POS

 

PLAYER

THRU

R1

R2

 

1

Taitum Beck

  

Waterford, WI
+3
F
+1
74
73
147
 
2

Mallory Swartz

  

Franklin, WI
+4
F
E
76
72
148
 
3
-
Taylor McCorkle

  

Oregon, WI
+5
F
+3
74
75
149
 
4

Maggie Leef

  

Pewaukee, WI
+6
F
+4
74
76
150
 
T5

Ellie Frisch

  

Middleton, WI
+7
F
+2
77
74
151
 
T5

Rachel Kauflin

  

Wauwatosa, WI
+7
F
+7
72
79
151
 
T7

Elise Hoven

  

Grafton, WI
+8
F
+4
76
76
152
 
T7

Courtney Matschke

  

Franklin, WI
+8
F
+3
77
75
152
 
T9

Alexis Thomas

  

Middleton, WI
+10
F
+6
76
78
154
 
T9

Ashli Stolen

  

Stoughton, WI
+10
F
+7
75
79
154
 
T9

Kate Meier

  

Middleton, WI
+10
F
+7
75
79
154
 
T12

Isabelle Maleki

  

Mequon, WI
+11
F
+1
82
73
155
 
T12

Amy Kucera

  

Fontana, WI
+11
F
+8
75
80
155
 
T12

Caylie Kotlowski

  

Stoughton, WI
+11
F
+10
73
82
155
 
15

Isabella Dory

  

Menomonee Falls, WI
+12
F
+1
83
73
156
 
16

Jo Baranczyk

  

Green Bay, WI
+13
F
+5
80
77
157
 
T17

Jessica Rudnicki

  

Sun Prairie, WI
+14
F
+4
82
76
158
 
T17

Bobbi Stricker

  

Madison, WI
+14
F
+7
79
79
158
 
T17
-
Payton Hodson

  

Middleton, WI
+14
F
+8
78
80
158
 
T17

Grace Suter

  

Oconomowoc, WI
+14
F
+11
75
83
158
 
T21

Jessie Gulden

  

Middleton, WI
+15
F
+8
79
80
159
 
T21

Ava Salay

  

River Falls, WI
+15
F
+9
78
81
159
 
T21

Skye Skenandore

  

De Pere, WI
+15
F
+11
76
83
159
 
T21

Sydney Rae Brandt

  

Brookfield, WI
+15
F
+12
75
84
159
 
25

Julie Schroeder

  

Oregon, WI
+16
F
+7
81
79
160
 
T26

Lorenza Martinez

  

Menomonee Falls, WI
+17
F
+10
79
82
161
 
T26

Gabby Tremblay

  

Hayward, WI
+17
F
+10
79
82
161
 
28

Ashley Kulka

  

Beaver Dam, WI
+18
F
+11
79
83
162
 
T29

Sami Forster

  

Wauwatosa, WI
+21
F
+7
86
79
165
 
T29

Syd Wells

  

Menominee, MI
+21
F
+10
83
82
165
 
T29

Sydney Steinmetz

  

Oshkosh, WI
+21
F
+10
83
82
165
 
T29
-
Grace Welch

  

Madison, WI
+21
F
+11
82
83
165
 
T29

Myranda Kotlowski

  

Stoughton, WI
+21
F
+14
79
86
165
 
T34

Glenna Sanderson

  

Middleton, WI
+24
F
+13
83
85
168
 
T34

Sadie Kelley

  

Green Bay, WI
+24
F
+15
81
87
168
 
36

Lauren Peterson

  

Hartland, WI
+25
F
+16
81
88
169
 
37

Amanda Karvala

  

New Berlin, WI
+28
F
+16
84
88
172
 
38
-
Jolie Guyette

  

De Pere, WI
+29
F
+14
87
86
173
 
39

Courtney Shorter

  

Fitchburg, WI
+30
F
+13
89
85
174
 
40

Alyssa Schmidt

  

Oregon, WI
+31
F
+16
87
88
175
 
41

Madeline Fiebig

  

Waukesha, WI
+32
F
+17
87
89
176
 
42

Treva Dodd

  

Brookfield, WI
+39
F
+17
94
89
183
 
43

Kirsten Leonardi

  

Sussex, WI
+49
F
+31
90
103
193
 
44
-
Kimberly Dodd

  

Brookfield, WI
+51
F
+28
95
100
195
 
45
-
Presley Cornelius

  

Green Bay, WI
+54
F
+27
99
99
198
 
First flight 
| POS |   | PLAYER | TOTAL | THRU | TODAY | R1 | R2 | STROKES |   |
| --- | --- | --- | --- | --- | --- | --- | --- | --- | --- |
| 1 |  1 | Andrea Schleeper  Fitchburg, WI | +10 | F | +4 | 78 | 76 | 154 |   |
| 2 |  1 | Pat Roisum  Deerfield, WI | +12 | F | +7 | 77 | 79 | 156 |   |
| 3 |  2 | Sophia Dooman  Janesville, WI | +16 | F | +8 | 80 | 80 | 160 |   |
| 4 |  1 | McKenna Nelson  Beaver Dam, WI | +17 | F | +10 | 79 | 82 | 161 |   |
| 5 |  7 | Carrie Sperling  Madison, WI | +19 | F | +5 | 86 | 77 | 163 |   |
| 6 |  3 | Katelyn Baribeau  Cameron, WI | +21 | F | +14 | 79 | 86 | 165 |   |
| T7 |  1 | Amy Gehrke  Muskego, WI | +22 | F | +10 | 84 | 82 | 166 |   |
| T7 |  1 | Madison Bowers  Mineral Point, WI | +22 | F | +13 | 81 | 85 | 166 |   |
| 9 |  1 | Maggie Warrner  Lakewood, WI | +25 | F | +13 | 84 | 85 | 169 |   |
| 10 |  3 | Karen Schmid  Waukesha, WI | +30 | F | +13 | 89 | 85 | 174 |   |
| T11 |  5 | Payton Dube  Hancock, MI | +31 | F | +22 | 81 | 94 | 175 |   |
| T11 |  3 | Jill Trider  Green Bay, WI | +31 | F | +19 | 84 | 91 | 175 |   |
| 13 |  2 | Katie Falk  Milwaukee, WI | +36 | F | +23 | 85 | 95 | 180 |   |
| 14 |  1 | Haley Myers  Somerset, WI | +42 | F | +25 | 89 | 97 | 186 |   |
| 15 | - | Ashley Krieski  Reedsburg, WI | +48 | F | +24 | 96 | 96 | 192 |   |

Second flight
POS

 

PLAYER

THRU

R1

R2

 

1
-
Lillian Knetter

  

Madison, WI
+9
F
+4
77
76
153
 
2
-
Peg Carlson

  

Madison, WI
+18
F
+11
79
83
162
 
3

Sydney Grimm

  

Waunakee, WI
+22
F
+8
86
80
166
 
4

Ann Bonner

  

Platteville, WI
+25
F
+13
84
85
169
 
5

Deb Toll

  

Appleton, WI
+26
F
+14
84
86
170
 
6

Katie Culver

  

Green Lake, WI
+27
F
+15
84
87
171
 
7

Anna Krieski

  

Reedsburg, WI
+30
F
+13
89
85
174
 
8

Darcy Hinz

  

Brookfield, WI
+33
F
+21
84
93
177
 
9

Vivian Cressman

  

Middleton, WI
+34
F
+16
90
88
178
 
10

Bridget McCarthy

  

Verona, WI
+36
F
+19
89
91
180
 
11
-
Sandy Nass

  

Elkhorn, WI
+41
F
+22
91
94
185
 
12
-
Eleanor Potter

  

Mequon, WI
+46
F
+17
101
89
190
 
Third flight
POS

 

PLAYER

THRU

R1

R2

 

1

Grace Warrner

  

Lakewood, WI
+22
F
+7
87
79
166
 
2

Susan Crowson

  

Madison, WI
+27
F
+18
81
90
171
 
3

Rita Cooney

  

Colgate, WI
+32
F
+21
83
93
176
 
4

Susan Schellinger

  

Milwaukee, WI
+41
F
+23
90
95
185
 
T5

MaryBeth Buechel

  

Wauwatosa, WI
+43
F
+23
92
95
187
 
T5

Jill Doucette

  

Cottage Grove, WI
+43
F
+23
92
95
187
 
T5

Bela Dodd

  

Brookfield, WI
+43
F
+30
85
102
187
 
T8

Carla Hellerman

  

Oconomowoc, WI
+46
F
+21
97
93
190
 
T8

Jeanne Whitish

  

Waunakee, WI
+46
F
+26
92
98
190
 
T8

Dawn Thiel

  

Appleton, WI
+46
F
+24
94
96
190
 
11
-
Pat Kraft

  

Hartland, WI
+66
F
+38
100
110
210
 
12
-
Mary Beth Specht

  

Prairie Du Chien, WI
+69
F
+33
108
105
213
 
Fourth flight
POS

 

PLAYER

THRU

R1

R2

 

T1

Wendy Proctor

  

Brookfield, WI
+48
F
+22
98
94
192
 
T1
-
Paula Garcia

  

Oconomowoc, WI
+48
F
+26
94
98
192
 
3

Kathy Algiers

  

Appleton, WI
+50
F
+25
97
97
194
 
T4

Connie Hillmann

  

Germantown, WI
+54
F
+22
104
94
198
 
T4

Jane Kohl

  

Waukesha, WI
+54
F
+22
104
94
198
 
6

Meng Xie Clayton

  

Oregon, WI
+56
F
+25
103
97
200
 
7

Rosalind Gusinow

  

Madison, WI
+60
F
+35
97
107
204
 
8

Mary Griebl

  

Hartford, WI
+61
F
+30
103
102
205
 
9
-
Gretchen Styles

  

Wauwatosa, WI
+72
F
+39
105
111
216
 
10

Lisa Peterson

  

Prairie du Chien, WI
+74
F
+34
112
106
218
 
11

Patti Ohme

  

Appleton, WI
+76
F
+38
110
110
220
 
12
-
Micki Hill

  

Madison, WI
+78
F
+35
115
107
222