Blackhawk Country Club in Madison always seems to bring out the best in Rachel Kauflin, no matter how she has been playing before she gets there.
Monday was no exception.
The Central Michigan recruit from Wauwatosa made three straight birdies for the first time in her career and, despite back-to-back bogeys to close, shot an even-par 72 to take a one-stroke lead over Caylie Kotlowski, a rising senior at Stoughton High School, after one round of the Wisconsin Women's State Amateur Championship. Oregon's Taylor McCorkle, a senior-to-be at North Dakota State, shot 74 on her home course and joined Weber State's Taitum Beck of Waterford and Pewaukee veteran Maggie Lee in a tie for third place.
Due to COVID-19 restrictions in place in Dane County requiring single-rider carts, the traditional 36-hole opener for golfers in the championship flight was reduced to 18 holes, turning the competition into a 36-hole event for golfers in all four flights. The final round will begin at 7:45 a.m. with the leaders in the championship flight scheduled to tee off just before 3 p.m.
Kauflin sitting atop a leaderboard at Blackhawk CC is nothing new. She is the two-time defending champion of the Sherri Steinhauer Invitational, a girls-only Wisconsin PGA Junior event named for the former LPGA Tour star in which the opening round is played at Blackhawk CC and the final round at Pleasant View Golf Course in Middleton.
"I haven't been playing my best throughout the beginning of the summer," Kauflin said in a Zoom interview with Wisconsin.Golf, mindful that her 2020 resume hasn't been up to expectations for the two-time reigning WPGA Junior Player of the Year outside of her WPGA Junior Tour victory last week on the Irish Course at Whistling Straits. "But I knew from past experience that Blackhawk was a course that suited my game very well. It's a course that is very tight and, because of that, there are a lot of holes where the college players who hit it really far, that length (advantage) is kind of eliminated."
Indeed, the key to scoring at Blackhawk CC is keeping it between the tree-lined fairways and resisting the temptation to pull out the driver on the four short par-4s that measure less than 300 yards, where the risk to try to drive it near the green is mitigated by fast, firm fairways that bring the trees into play.
Photos: Day 1 action from 2020 Wisconsin State Women's Amateur
Kauflin took those cautions to heart to make her move after coming to the par-4 eighth hole at even-par following a birdie at No. 2 and a bogey at No. 6. She had the same club on her approach shots at Nos. 8 and 9, leading to the first of her three straight birdies that got her to 3-under. A double-bogey 7 at No. 12 preceded her fifth birdie of the day at No. 14 before those consecutive bogeys to end her round brought her back to the field.
"You talk about the run of birdies I got on, I got into a groove where on Nos. 8 and 9 I think I had 7-irons into both of them," Kauflin said. "I hit really good shots on both of them and hit nice putts that found their way into the hole. It was just really fun to see some of the work I've been doing ... pay off."
Likewise, Kotlowski went on a run similar to Kauflin in the middle of her round. 
After making the turn in 4-over 40, Kotlowski bogeyed No. 10 to drop to 5-over. She said she started paying closer attention to the greens book she purchased in the pro shop and suddenly caught fire with the putter.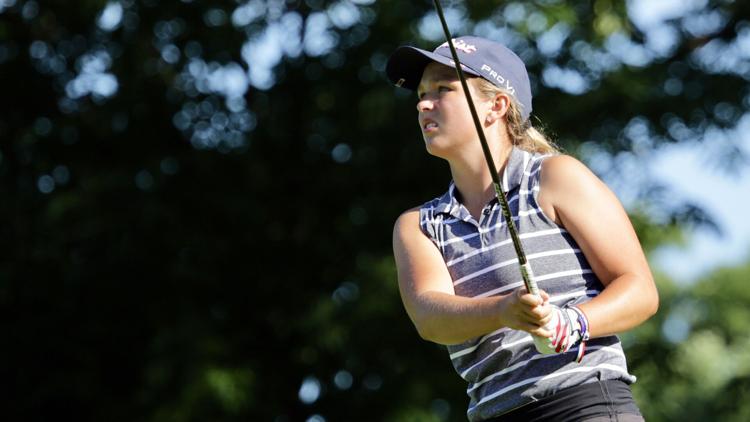 Kotlowski, who seldom sees a hole that doesn't fit her driver, pulled her tee shot on the 265-yard 11th hole into the trees, punched onto the right side of the green and made a 30-foot putt for the first of three consecutive birdies and four over her next five holes. On the par-5 12th, she hit an 8-iron onto the front edge of a green and then knocked in a 40-footer up the hill for birdie.
"I started reading the greens better," Kotlowski said. "I just felt good with the putter. On the front nine, my putting kept me in the game. I had a fair number of one-putts on the front nine and they started dropping (for birdie) on the back."
Meanwhile, others who threatened the top of the leaderboard at various points during the Monday's opening dropped back. 
McCorkle, who birdied No. 1 and bogeyed No. 8 to turn in even-par 36, birdied No. 11 to get to 1-under before a triple-bogey 8 on No. 12 knocked her back. A triple-bogey 7 at No. 6 slowed Beck's climb up the leaderboard after a birdie at No. 3 and four pars had her at 1-under, but she rallied with birdies at Nos. 14 and 15 and played her final eight holes in 2-under.
With 15 golfers within five shots of her, Kauflin knows there will be a lot of threats to her lead over the final 18 holes.
"It's a very challenging venue; it's a very fitting place to have this tournament," Kauflin said. "It's very tight in spots. The greens are very tricky at times. So it does present a very firm challenge. But, as we saw (Monday), if you're hitting the ball well, it also gives you the opportunity to go low at times. I think, for me, it'll just be important for me to bear down and focus on continuing to keep the ball in play and try to avoid the big numbers."
Championship flight
POS

PLAYER

THRU

R1

R2

 

1
Rachel Kauflin

  

Wauwatosa, WI
E
F
E
72
 
72
 
2
Caylie Kotlowski

  

Stoughton, WI
+1
F
+1
73
 
73
 
T3
Taylor McCorkle

  

Oregon, WI
+2
F
+2
74
 
74
 
T3
Taitum Beck

  

Waterford, WI
+2
F
+2
74
 
74
 
T3
Maggie Leef

  

Pewaukee, WI
+2
F
+2
74
 
74
 
T6
Amy Kucera

  

Fontana, WI
+3
F
+3
75
 
75
 
T6
Grace Suter

  

Oconomowoc, WI
+3
F
+3
75
 
75
 
T6
Ashli Stolen

  

Stoughton, WI
+3
F
+3
75
 
75
 
T6
Kate Meier

  

Middleton, WI
+3
F
+3
75
 
75
 
T6
Sydney Rae Brandt

  

Brookfield, WI
+3
F
+3
75
 
75
 
T11
Mallory Swartz

  

Franklin, WI
+4
F
+4
76
 
76
 
T11
Alexis Thomas

  

Middleton, WI
+4
F
+4
76
 
76
 
T11
Elise Hoven

  

Grafton, WI
+4
F
+4
76
 
76
 
T11
Skye Skenandore

  

De Pere, WI
+4
F
+4
76
 
76
 
T15
Courtney Matschke

  

Franklin, WI
+5
F
+5
77
 
77
 
T15
Ellie Frisch

  

Middleton, WI
+5
F
+5
77
 
77
 
T17
Payton Hodson

  

Middleton, WI
+6
F
+6
78
 
78
 
T17
Ava Salay

  

River Falls, WI
+6
F
+6
78
 
78
 
T19
Gabby Tremblay

  

Hayward, WI
+7
F
+7
79
 
79
 
T19
Ashley Kulka

  

Beaver Dam, WI
+7
F
+7
79
 
79
 
T19
Jessie Gulden

  

Middleton, WI
+7
F
+7
79
 
79
 
T19
Bobbi Stricker

  

Madison, WI
+7
F
+7
79
 
79
 
T19
Lorenza Martinez

  

Menomonee Falls, WI
+7
F
+7
79
 
79
 
T19
Myranda Kotlowski

  

Stoughton, WI
+7
F
+7
79
 
79
 
25
Jo Baranczyk

  

Green Bay, WI
+8
F
+8
80
 
80
 
T26
Sadie Kelley

  

Green Bay, WI
+9
F
+9
81
 
81
 
T26
Lauren Peterson

  

Hartland, WI
+9
F
+9
81
 
81
 
T26
Julie Schroeder

  

Oregon, WI
+9
F
+9
81
 
81
 
T29
Isabelle Maleki

  

Mequon, WI
+10
F
+10
82
 
82
 
T29
Jessica Rudnicki

  

Sun Prairie, WI
+10
F
+10
82
 
82
 
T29
Grace Welch

  

Madison, WI
+10
F
+10
82
 
82
 
T32
Isabella Dory

  

Menomonee Falls, WI
+11
F
+11
83
 
83
 
T32
Glenna Sanderson

  

Middleton, WI
+11
F
+11
83
 
83
 
T32
Syd Wells

  

Menominee, MI
+11
F
+11
83
 
83
 
T32
Sydney Steinmetz

  

Oshkosh, WI
+11
F
+11
83
 
83
 
36
Amanda Karvala

  

New Berlin, WI
+12
F
+12
84
 
84
 
37
Sami Forster

  

Wauwatosa, WI
+14
F
+14
86
 
86
 
T38
Madeline Fiebig

  

Waukesha, WI
+15
F
+15
87
 
87
 
T38
Jolie Guyette

  

De Pere, WI
+15
F
+15
87
 
87
 
T38
Alyssa Schmidt

  

Oregon, WI
+15
F
+15
87
 
87
 
41
Courtney Shorter

  

Fitchburg, WI
+17
F
+17
89
 
89
 
42
Kirsten Leonardi

  

Sussex, WI
+18
F
+18
90
 
90
 
43
Treva Dodd

  

Brookfield, WI
+22
F
+22
94
 
94
 
44
Kimberly Dodd

  

Brookfield, WI
+23
F
+23
95
 
95
 
45
Presley Cornelius

  

Green Bay, WI
+27
F
+27
99
 
99
 
First flight
POS

PLAYER

THRU

R1

R2

 

1
Pat Roisum

  

Deerfield, WI
+5
F
+5
77
 
77
 
2
Andrea Schleeper

  

Fitchburg, WI
+6
F
+6
78
 
78
 
T3
Katelyn Baribeau

  

Cameron, WI
+7
F
+7
79
 
79
 
T3
McKenna Nelson

  

Beaver Dam, WI
+7
F
+7
79
 
79
 
5
Sophia Dooman

  

Janesville, WI
+8
F
+8
80
 
80
 
T6
Madison Bowers

  

Mineral Point, WI
+9
F
+9
81
 
81
 
T6
Payton Dube

  

Hancock, MI
+9
F
+9
81
 
81
 
T8
Amy Gehrke

  

Muskego, WI
+12
F
+12
84
 
84
 
T8
Jill Trider

  

Green Bay, WI
+12
F
+12
84
 
84
 
T8
Maggie Warrner

  

Lakewood, WI
+12
F
+12
84
 
84
 
11
Katie Falk

  

Milwaukee, WI
+13
F
+13
85
 
85
 
12
Carrie Sperling

  

Madison, WI
+14
F
+14
86
 
86
 
T13
Karen Schmid

  

Waukesha, WI
+17
F
+17
89
 
89
 
T13
Haley Myers

  

Somerset, WI
+17
F
+17
89
 
89
 
15
Ashley Krieski

  

Reedsburg, WI
+24
F
+24
96
 
96
 
Second flight
POS

PLAYER

THRU

R1

R2

 

1
Lillian Knetter

  

Madison, WI
+5
F
+5
77
 
77
 
2
Peg Carlson

  

Madison, WI
+7
F
+7
79
 
79
 
T3
Katie Culver

  

Green Lake, WI
+12
F
+12
84
 
84
 
T3
Ann Bonner

  

Platteville, WI
+12
F
+12
84
 
84
 
T3
Deb Toll

  

Appleton, WI
+12
F
+12
84
 
84
 
T3
Darcy Hinz

  

Brookfield, WI
+12
F
+12
84
 
84
 
7
Sydney Grimm

  

Waunakee, WI
+14
F
+14
86
 
86
 
T8
Anna Krieski

  

Reedsburg, WI
+17
F
+17
89
 
89
 
T8
Bridget McCarthy

  

Verona, WI
+17
F
+17
89
 
89
 
10
Vivian Cressman

  

Middleton, WI
+18
F
+18
90
 
90
 
11
Sandy Nass

  

Elkhorn, WI
+19
F
+19
91
 
91
 
12
Eleanor Potter

  

Mequon, WI
+29
F
+29
101
 
101
 
Third flight
POS

PLAYER

THRU

R1

R2

 

1
Susan Crowson

  

Madison, WI
+9
F
+9
81
 
81
 
2
Rita Cooney

  

Colgate, WI
+11
F
+11
83
 
83
 
3
Bela Dodd

  

Brookfield, WI
+13
F
+13
85
 
85
 
4
Grace Warrner

  

Lakewood, WI
+15
F
+15
87
 
87
 
5
Susan Schellinger

  

Milwaukee, WI
+18
F
+18
90
 
90
 
T6
Jill Doucette

  

Cottage Grove, WI
+20
F
+20
92
 
92
 
T6
MaryBeth Buechel

  

Wauwatosa, WI
+20
F
+20
92
 
92
 
T6
Jeanne Whitish

  

Waunakee, WI
+20
F
+20
92
 
92
 
9
Dawn Thiel

  

Appleton, WI
+22
F
+22
94
 
94
 
10
Carla Hellerman

  

Oconomowoc, WI
+25
F
+25
97
 
97
 
11
Pat Kraft

  

Hartland, WI
+28
F
+28
100
 
100
 
12
Mary Beth Specht

  

Prairie Du Chien, WI
+36
F
+36
108
 
108
 
Fourth flight
POS

PLAYER

THRU

R1

R2

 

1
Paula Garcia

  

Oconomowoc, WI
+22
F
+22
94
 
94
 
T2
Rosalind Gusinow

  

Madison, WI
+25
F
+25
97
 
97
 
T2
Kathy Algiers

  

Appleton, WI
+25
F
+25
97
 
97
 
4
Wendy Proctor

  

Brookfield, WI
+26
F
+26
98
 
98
 
T5
Mary Griebl

  

Hartford, WI
+31
F
+31
103
 
103
 
T5
Meng Xie Clayton

  

Oregon, WI
+31
F
+31
103
 
103
 
T7
Connie Hillmann

  

Germantown, WI
+32
F
+32
104
 
104
 
T7
Jane Kohl

  

Waukesha, WI
+32
F
+32
104
 
104
 
9
Gretchen Styles

  

Wauwatosa, WI
+33
F
+33
105
 
105
 
10
Patti Ohme

  

Appleton, WI
+38
F
+38
110
 
110
 
11
Lisa Peterson

  

Prairie du Chien, WI
+40
F
+40
112
 
112
 
12
Micki Hill

  

Madison, WI
+43
F
+43
115
 
115