You have to get up pretty early to pull one over on Sarah Busey and it was just about early enough Monday for that to happen to the Racine golfer.
Photos: Wisconsin's best battle for the title at 2019 State Women's Amateur at La Crosse CC
Images from the final round of the 2019 Wisconsin State Women's Amateur Championship at La Crosse Country Club in Onalaska.
Armed with a three-shot lead and an 8 a.m. tee time going into the final round of the Wisconsin State Women's Amateur, Busey admitted after the fact she didn't really know what hit her after she triple-bogeyed her first hole and fell one shot behind playing partner Abby Cavaiani of Wales after four holes. But Busey, a rising junior at Santa Clara University, knew how to respond.
Busey played her next 15 holes in 2-under-par and amassed a seven-stroke advantage over Cavaiani, a rising sophomore at Missouri State. That allowed Busey to withstand a double-bogey on her final hole as she signed for a 4-over 76 on a warm, breezy day at challenging La Crosse Country Club in Onalaska and, with a 54-hole total of 8-over 224, a five-shot victory over Cavaiani (78).
Waterford's Taitum Beck, who will be a junior this fall at Weber State in Utah, shot 77 to finish a distant third, five shots behind Cavaiani at 18-over 234. Mequon's Speedy Kent (81-236), a rising sophomore at Wofford University in South Carolina, was fourth while 2018 WPGA girls golfer of the year Rachel Kauflin of Wauwatosa (81) and Drake senior Aimee Gerschke of South Milwaukee (78) tied for fifth at 238 on a day with just five sub-80 scores.
"The course did play fairly tough," Busey wrote via text message to Wisconsin.golf after becoming the first golfer since Madison's Jessie Gerry in 2013 to sweep the Wisconsin Women's State Golf Association match-play and stroke-play titles in the same summer. "Luckily, it was a bit drier, but the wind and difficult pin placements definitely were a factor in (Monday's) results. I had an extremely rough start, yes, but I think because it was so early it didn't really resonate with me that I no longer had a lead. It did allow me to narrow my focus on hitting quality golf shots."
The shot that turned things around for Busey came at the fifth hole.
After Cavaiani left her tee shot on the 175-yard par-3 in a greenside bunker, Busey hit hers to within 10 feet of the hole. Cavaiani bladed her bunker shot over the green and chipped back on before Busey knocked in her birdie putt, restoring a two-shot lead after Cavaiani two-putted for her double-bogey.
"Obviously I was disappointed in making a double," Cavaiani wrote in a text to Wisconsin.golf. "But I knew there was still a lot of golf to be played."
Unfortunately for Cavaiani, Busey wasn't going to open the door a second time.
The former Racine St. Catherine's golfer added another birdie at the par-3 seventh hole to regain the three-shot lead with which she started the day by the time both golfers turned in 3-over 39. Busey added three more shots to her cushion after she birdied the par-4 11th hole and Cavaiani bogeyed Nos. 12 and 13 to virtually put the outcome out of reach with five holes to go.
"After I got in a rhythm I was able to make some good birdies," Busey wrote. "My birdie on (No.) 11 was my best of the day. The pin was on a ridge and I was in a difficult spot with a side hill left to right breaker (about 30 feet)."
After the last of her four birdies on the day (and eighth of the week) on No. 17, Busey hit her drive on the par-4 18th hole into the water. With her lead at seven shots, however, Busey regained her focus and closed out the victory.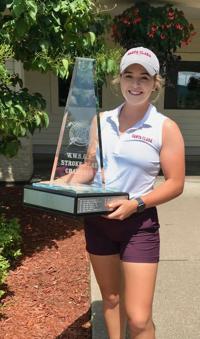 Sarah Busey | 2019 Wisconsin State Women's Amateur champion
Sarah Busey | 2019 Wisconsin State Women's Amateur champion
"At that point, I kind of knew that regardless of whether I parred or double bogeyed, it wasn't really going to matter much," Busey wrote. "So I honestly just turned around to look at my mom and we both just laughed at how stupid that mistake was. After that, it was a routine par with the second ball."
Cavaiani, the reigning Missouri Valley Conference champion, played her final 10 holes in 3-over, but could never cut into Busey's lead.
"The conditions around the greens were difficult which made it hard to make up shots on the back nine," Cavaiani wrote. "Overall, I just didn't have my best game to put much pressure on Sarah today. Although I wish I played better this week, I am still happy with a runner-up finish!"
Busey, who finished third a year ago behind Rebecca Klongland and Mikayla Hauck, was honored to be the first Racine golfer to win this event since Sarah DeKraay, a former Indiana University golfer, did so in 1986. Klongland, a former University of Wisconsin standout from Stoughton, started Law School at Marquette University in Milwaukee last fall and did not defend her title.
The victory continued to add to an impressive summer for Busey, who also qualified for next month's U.S. Women's Amateur in Mississippi.
"Even though I did not have my best game the last two rounds, it means a lot to be able to keep my name at the top of the leaderboard for the entirety of this tournament," Busey wrote. "I'm hoping this win will help fuel my confidence in future tournaments, especially during the U.S. Am and this college season. After such an exciting summer thus far, my goals and expectations for myself are only climbing higher."
---
Championship flight
Pos

Player

Total

Thru

Today

R1

R2

R3

Strokes

 

1
Sarah Busey  Racine, WI, Racine CC
+8
F
+4
71
77
76
224
 
2
Abby Cavaiani  Wales, WI, Naga-Waukee GC
+13
F
+6
72
79
78
229
 
3
Taitum Beck  Waterford, WI, Rivermoor GC
+18
F
+5
82
75
77
234
 
4
Speedy Kent  Mequon, WI, Wisconsin PGA Junior GC
+20
F
+9
77
78
81
236
 
T5
Rachel Kauflin  Wauwatosa, WI, Wisconsin PGA Junior GC
+22
F
+9
78
79
81
238
 
T5
Aimee Gerschke  South Milwaukee, WI, Wisconsin PGA Junior GC
+22
F
+6
84
76
78
238
 
7
Payton Hodson  Middleton, WI, Pleasant View GC
+26
F
+10
84
76
82
242
 
T8
Isabelle Maleki  Mequon, WI, Ozaukee CC
+27
F
+13
80
78
85
243
 
T8
Ashley Kulka  Beaver Dam, WI, Old Hickory GC
+27
F
+9
82
80
81
243
 
10
Allison Schultz  Madison, WI, Nakoma GC
+29
F
+8
86
79
80
245
 
T11
Lexi Meade  Eau Claire, WI, Wisconsin PGA Junior GC
+30
F
+14
81
79
86
246
 
T11
Mallory Swartz  Franklin, WI, Wisconsin PGA Junior GC
+30
F
+12
80
82
84
246
 
T11
Sydney Wells  Menominee, MI, Riverside Golf Club
+30
F
+9
84
81
81
246
 
T11
Trystin Kluess  Greenleaf, WI, Wild Ridge
+30
F
+8
85
81
80
246
 
15
Katherine Meier  Middleton, WI, Bishops Bay CC
+31
F
+11
83
81
83
247
 
16
Grace Welch  Madison, WI, Blackhawk CC
+32
F
+12
80
84
84
248
 
17
Katelynn Warpinski  Green Bay, WI, Shorewood GC
+33
F
+7
85
85
79
249
 
18
Ashli Stolen  Stoughton, WI, Stoughton CC
+36
F
+15
83
82
87
252
 
19
Courtney Matschke  Franklin, WI, Wisconsin PGA Junior GC
+37
F
+17
82
82
89
253
 
T20
Amanda Karvala  New Berlin, WI, Wisconsin PGA Junior GC
+38
F
+20
78
84
92
254
 
T20
Sami Forster  Wauwatosa, WI, Washington County GC
+38
F
+13
85
84
85
254
 
22
Myranda Kotlowski  Stoughton, WI, Stoughton CC
+40
F
+12
83
89
84
256
 
T23
Gianna Gastrow  Hartland, WI, The Legend Clubs
+45
F
+18
84
87
90
261
 
T23
Sydney Brandt  Brookfield, WI, Fairways of Woodside GC
+45
F
+17
86
86
89
261
 
T25
Faith Krause  Franklin, WI, Muskego Lakes CC
+46
F
+18
85
87
90
262
 
T25
Erin Ericson  Onalaska, WI, The GC at Cedar Creek
+46
F
+14
87
89
86
262
 
T27
Jessie Gulden  Middleton, WI, Bishops Bay CC
+47
F
+12
92
87
84
263
 
T27
Courtney Shorter  Fitchburg, WI, Blackhawk CC
+47
F
+16
82
93
88
263
 
29
Kimberly Dodd  Brookfield, WI, The Legend Clubs
+52
F
+19
89
88
91
268
 
30
Madison Bowers  Mineral Point, WI, Dodge Point CC
+61
F
+16
96
93
88
277
 
31
Lauren Haen  Appleton, WI, Ridgeway CC
+79
F
+27
98
98
99
295
 
32
Jordyn Fitzgerald  Marshfield, WI
+81
F
+24
100
101
96
297
First flight
Pos

Player

Total

Thru

Today

R1

R2

Strokes

 

T1
Grace Suter  Oconomowoc, WI, North Hills CC
+20
F
+13
79
85
164
 
T1
Karen Schmid  Waukesha, WI, The Legend Clubs
+20
F
+12
80
84
164
 
3
Julie Schroeder  Oregon, WI, The Legend at Bergamont
+21
F
+9
84
81
165
 
4
Lynn Lenz  La Crosse, WI, Coulee Golf Bowl
+24
F
+11
85
83
168
 
5
Treva Dodd  Brookfield, WI, Wisconsin PGA Junior GC
+29
F
+15
86
87
173
 
T6
Lillian Knetter  Madison, WI, Blackhawk CC
+31
F
+17
86
89
175
 
T6
Jessica Rudnicki  Sun Prairie, WI, Eau Claire G&CC
+31
F
+13
90
85
175
 
8
Megan Koch  Franksville, WI, Meadowbrook CC
+32
F
+17
87
89
176
 
9
Klairissa O'Reilly-Dye  Madison, WI, Monona GC
+33
F
+17
88
89
177
 
10
Susan Slater  Racine, WI, Johnson Park GC
+36
F
+18
90
90
180
 
11
Katie Gerschke  South Milwaukee, WI
+54
F
+26
100
98
198
Second flight
Pos

Player

Total

Thru

Today

R1

R2

Strokes

 

1
Peg Carlson  Madison, WI, Odana Hills GC
+28
F
+12
88
84
172
 
2
Ann Bonner  Platteville, WI, Platteville G&CC
+31
F
+15
88
87
175
 
3
Deb Toll  Appleton, WI, Chaska GC
+44
F
+21
95
93
188
 
4
Susan Crowson  Madison, WI, Meadows of Sixmile Creek
+45
F
+24
93
96
189
 
5
Sandra Nass  Elkhorn, WI, Johnson Park GC
+48
F
+23
97
95
192
 
6
Terry Ziegelbauer  LaCrosse, WI, Coulee Golf Bowl
+50
F
+25
97
97
194
 
T7
Carla Konet  Oconomowoc, WI, Deertrak GC
+51
F
+28
95
100
195
 
T7
Wendy Proctor  Brookfield, WI, Brown Deer Park GC
+51
F
+22
101
94
195
 
9
Grace Warrner  Lakewood, WI, McCauslin Brook G&CC
+52
F
+21
103
93
196
 
10
Rita Cooney  Colgate, WI, Songbird Hills GC
+56
F
+30
98
102
200
 
11
Connie Hillmann  Germantown, Brown Deer Park GC
+59
F
+29
102
101
203
 
12
Pat Kraft  Brookfield, WI, Chenequa CC
+62
F
+28
106
100
206
 
13
Julie O'Connor  Oconomowoc, WI, Morningstar GC
+69
F
+37
104
109
213
Third flight
| Pos | Player | Total | Thru | Today | R1 | R2 | Strokes |   |
| --- | --- | --- | --- | --- | --- | --- | --- | --- |
| 1 | Andrea Schleeper  Fitchburg, WI | +37 | F | +17 | 92 | 89 | 181 |   |
| 2 | Dawn Thiel  Appleton, WI, Mid Vallee GC | +52 | F | +29 | 95 | 101 | 196 |   |
| 3 | Jeanne Whitish  Cross Plains, WI, Meadows of Sixmile Creek | +57 | F | +29 | 100 | 101 | 201 |   |
| 4 | Karen Weiss  Racine, WI, Johnson Park GC | +59 | F | +30 | 101 | 102 | 203 |   |
| 5 | Cathi Baus  La Crosse, WI, Drugan's Castle Mound CC | +67 | F | +36 | 103 | 108 | 211 |   |
| T6 | Rosalind Gusinow  Madison, WI, Odana Hills GC | +72 | F | +40 | 104 | 112 | 216 |   |
| T6 | Kathy Algiers  Appleton, WI, Chaska GC | +72 | F | +32 | 112 | 104 | 216 |   |
| 8 | Sue St John  Brookfield, WI, Brown Deer Park GC | +74 | F | +43 | 103 | 115 | 218 |   |
| 9 | Vita Paukstelis  Racine, WI, Johnson Park GC | +76 | F | +42 | 106 | 114 | 220 |   |
| 10 | Claudia Standorf  Madison, WI, Odana Hills GC | +82 | F | +38 | 116 | 110 | 226 |   |
| 11 | Micki Hill  Madison, Wisconsin, Monona GC | +89 | F | +45 | 116 | 117 | 233 |   |
| 12 | Gretchen Styles  Wauwatosa, WI, Brown Deer Park GC | +90 | F | +43 | 119 | 115 | 234 |   |
| 13 | Claudia Berges  Rolla, MO, Johnson Park GC | +114 | F | +56 | 130 | 128 | 258 |   |