LAKE GENEVA — Sarah Busey spent so much time playing the 18th hole of the Trevino Course at Geneva National Golf Club during Wednesday's semifinals of the WSGA Women's Match Play Championship that at one point the Racine golfer joked it was "like living the same five minutes over and over."
For Amy Kucera, the Fontana golfer waiting for an opponent to play for the championship, it felt more like living the same 18 minutes over and over. 
Eventually, the two met on the first tee for an epic battle between two recent WSGA women's players of the year. A little over three hours later, Busey came away with her third victory in this event in the last four years when she rolled in a 30-foot putt to save par, emerging with a 1-up victory only after Kucera's 6-foot par putt spun off the left lip and ran past the hole for a bogey.
Photos: Championship Wednesday at 2021 WSGA Women's Match Play Championship
Busey, the 2019 WSGA women's player of the year, had a significant advantage in that situation over Kucera, the 2020 WSGA women's co-player of the year who hadn't played the 343-yard finishing hole since the qualifying round. A five-birdie, bogey-free 6-and-5 victory in the semifinals over Middleton native Kate Meier, a Loyola (Ill.) University golfer, marked the third straight match that Kucera hadn't allowed to proceed past the 16th hole.
On the other hand, Busey played No. 18 four times during the morning semifinals alone. That's how long it took her to dispatch Wauwatosa's Rachel Kauflin, a Central Michigan golfer, in a marathon semifinal that she won with a 7-foot par putt on the 21st hole.
"I think I brought it up (to father/caddie John) on 16 tee; I'm like 'I don't think she's played these holes yet (Wednesday),'" Busey said. "I'm thinking to myself, 'Well, OK, I've played (No.) 18 four times.' If the match goes there, I know what to do."
And, truth be told, Busey did very little of it.
Her drive was significantly shorter than that of Kucera. Her second shot, struck with a hybrid, had a decidedly chunky sound to it and was probably fortunate to reach the front greenside bunker. Her third shot from the sand sailed past the flag before coming to rest on the back fringe, which proved to be the garden spot for her final stroke of the day.
"Knowing where that pin is and what the ball does near the hole, I think, really helped me make that last putt," said Busey, who on the other hand couldn't blame Kucera for thinking that her chip from a mound over the back of the green would break toward the hole and not away from it. "From where she was, it doesn't funnel down to the hole as people would assume. I've seen that before, but she hadn't so I think I had an advantage there."
Busey, who played 37 of her 39 holes on the day without the lead, also had the advantage of having been knocked on her heels early in her semifinal with Kauflin. Busey fell 3-down after six holes and was still 1-down after Kauflin made an unbelievable up-and-down par from the base of a tree on the par-3 17th hole.
An up-and-down par from in front of the 18th green in her first visit of the day helped Busey square the match and force sudden death. She left a 20-foot putt on the lip on the 19th hole and Kauflin ran a 15-footer over the left lip on the 20th hole before Busey drained a 7-footer for par on the 21st to earn her spot in the championship match.
That left her little more than 15 minutes to get ready to face Kucera, who made five birdies in her bogey-free semifinal against Meier and seemed destined to make quick work of Busey after going 3-up through six holes in the final.
"I was not even done sweating from the (semifinal) round before I stepped on the first tee," Busey said. "I grabbed a hot dog at the little lunch spot here and I was eating it on the first fairway. I was just thinking to myself 'Please just do the best and whatever happens happens.' "
What happened was Busey started hitting wedges close to the hole and giving herself birdie opportunities that didn't put the heat on her putter. In fact, the only holes she won after falling 3-down came via birdies she made at Nos. 8, 11 and 13.
However, Busey bogeys at Nos. 14 and 16 forced her to make birdies at Nos. 15 and 17 — the latter a conceded one from Kucera after she hit a bunker shot from a funky lie out of play — just to get to No. 18 all-square.
Busey had been there and done that. Kucera, on the other hand, hadn't played the tough finishing hole with the shallow green since Monday's qualifying round and all she had seen of it came while she stood above the green watching Busey and Kauflin battle it out after having finished a leisurely lunch.
"That did cross my mind," Kucera said, when asked if — after seeing three less-than-stellar shots from Busey from tee to green — she felt she had gained an advantage. "But, then again, this is match play and anything can happen. It just takes one shot to change the match and she was able to do that. It was a great putt.
"It was down to the wire and we were able to make it an interesting match."
---
Championship flight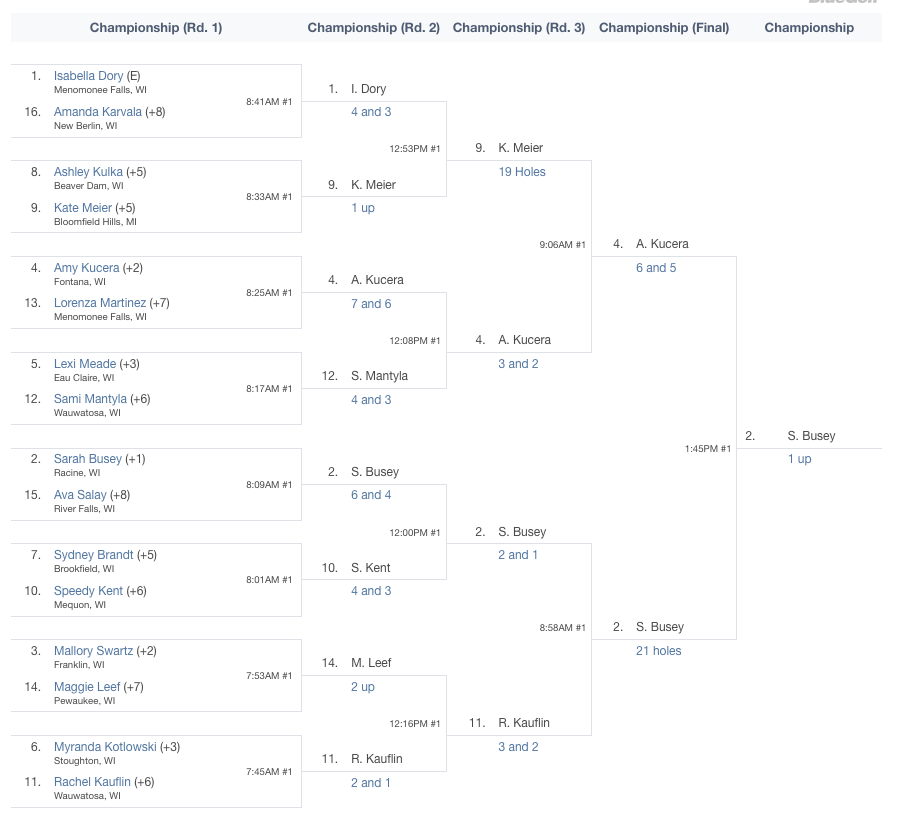 Presidents flight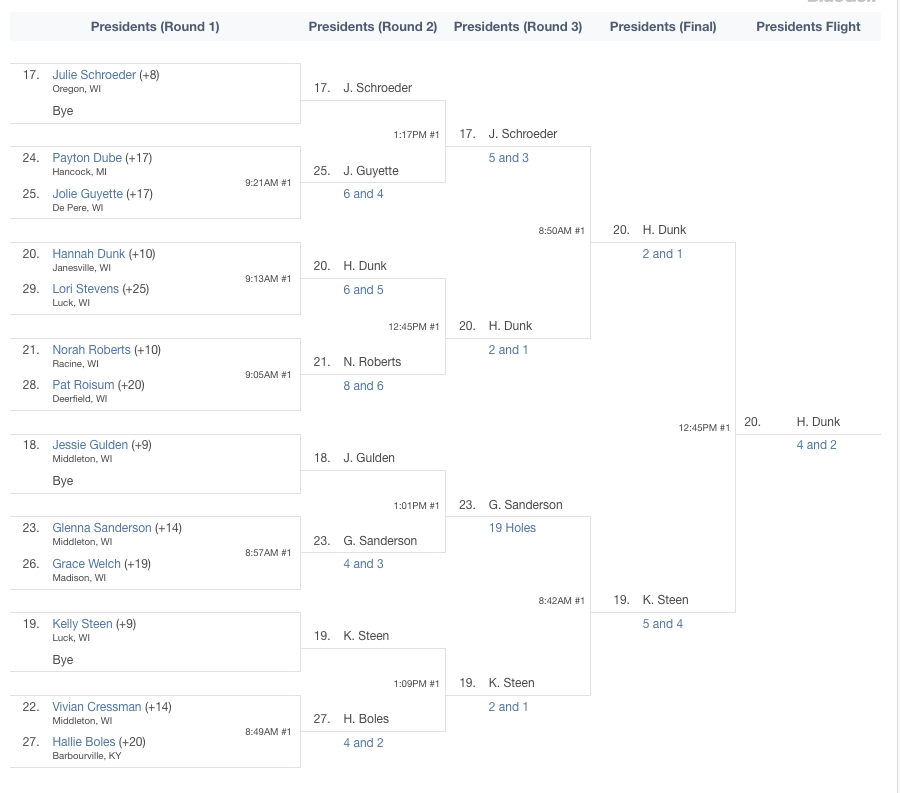 First flight
Second flight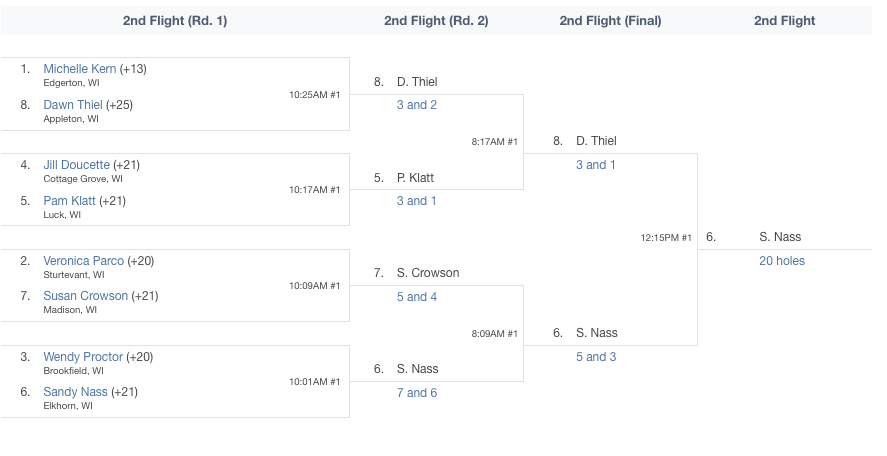 Third flight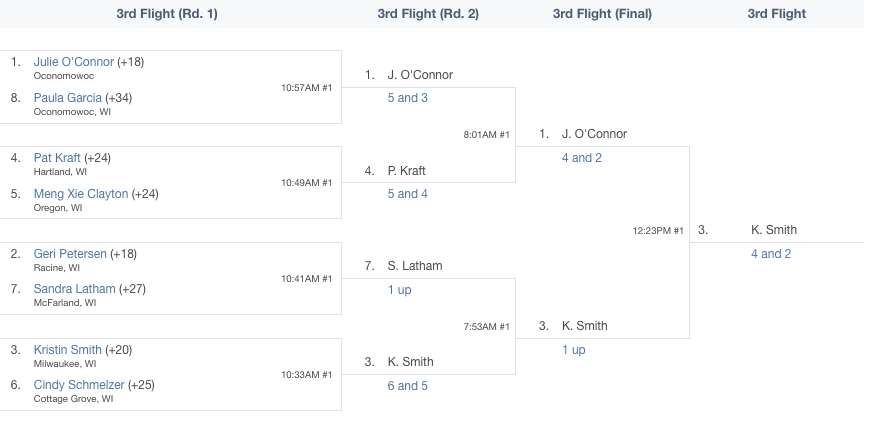 Fourth flight