WEST BEND — Courtney Matschke had no idea where she and UW-Green Bay women's golf teammate Isabelle Maleki stood on the leaderboard as they played the 18th hole at West Bend Country Club at the WSGA State Women's Four-Ball (Bestball) Championship.
Fortunately for the Phoenix duo, Maleki had a firm grasp of the situation.
The rising junior from Mequon drained a 45-foot putt for birdie on the closing hole to give her team a 2-under-par 70 and what would prove to be a one-shot victory over the UW-Stout team of Kendra Swanson of Beaver Dam and Klairissa O'Reilly-Dye of Madison. For Matschke and Maleki, it was their third birdie to go with two eagles, both coming in their 2-under 35 on the front.
"It was a fun day!" Matschke wrote in a text message to Wisconsin.Golf. "I did not know where we were heading into the last hole, but Isabelle did because she was doing the scoring on her phone. ... It was a really awesome putt."
Swanson and O'Reilly-Dye drew even with the leaders on No. 17 where O'Reilly-Dye — the 2019 Wisconsin Intercollegiate Athletic Conference newcomer of the year — stuck her tee shot on the 140-yard, par-3 to within two feet and made the putt for birdie to get her team to 2-under. However, O'Reilly-Dye flirted with the greenside pond on her approach shot to the 18th green and missed a short putt for bogey while Swanson rolled her 12-foot, downhill putt for birdie about four feet past the cup and missed the par putt, settling for their first bogey since the ninth hole and a runner-up finish.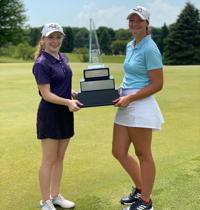 2020 WSGA State Women's Four-Ball Low Net Champions | Klairissa O'Reilly-Dye, Kendra Swanson
2020 WSGA State Women's Four-Ball Low Net Champions | Klairissa O'Reilly-Dye, Kendra Swanson
"We knew we were playing a good round, but we did not know how we stood with the other teams," wrote Swanson, who made a tap-in eagle on No. 3 after her partner hit it tight on No. 2 and make the 2-foot putt for birdie, via text message to Wisconsin.Golf. "On 18, we both had great drives, I hit my second shot on the green and rimmed out both birdie and par (putts). ... Klaire and I were very compatible. When either of us would have a bad hole or kinda struggle, the other would push ahead and post a good score."
It was a different story for the champions, according to Matschke.
"I think we both played relatively well, but it was a struggle because both of us would have bad holes at the same time and we would both have good holes at the same time," Matschke wrote. "So we definitely could have had a lower score coming in. But we both feed off of each other really well, too, and we keep each other going even after a bad hole."
That upbeat attitude came in handy on the front nine. After Matschke got her team to 3-under with a birdie on the par-5 third hole, missing a 15-footer for eagle by a couple of inches, she chipped in for an eagle on the par-5 sixth. They double-bogeyed No. 7 and bogeyed No. 8 to fall back to even-par before Matschke made a 15-footer for an eagle 3 on No. 9. Each golfer made a birdie on the back nine (Nos. 14 and 18) around bogeys at Nos. 11 and 16.
"Overall, the course was definitely shorter (5,480 yards) than what we are used to playing, which definitely helped us especially on those par 5s obviously," Matschke wrote. "But there were definitely some tricky holes out there that were more about strategy than distance. ... It meant a lot to win with a teammate — especially Iz. We are very close (being teammates and roommates) so we always get along so well and are very good friends so the day was super fun and to come in with a win being friends but also teammates was awesome."
---
Championship flight
First flight
Second flight
Third flight
Fourth flight